Its a Teenage Boy band from Karachi. Their popularity increased by the song "Burger-e-Karachi" though they did released a few songs before. Now they are a popular group which is followed by almost every teenager in Pakaistan but mostly Karachi.
Song List:
Edit
. Fire in the whole
.
Mein hu Pakistani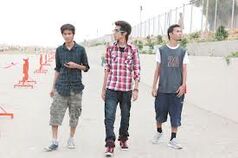 . Qasuurwar
. Burger-e-Karachi
. Laam say chaurha
. Maila Majnu
. Paranormal Vicinity
. Fikre-Akhrat
. Why So Quite?
Ad blocker interference detected!
Wikia is a free-to-use site that makes money from advertising. We have a modified experience for viewers using ad blockers

Wikia is not accessible if you've made further modifications. Remove the custom ad blocker rule(s) and the page will load as expected.