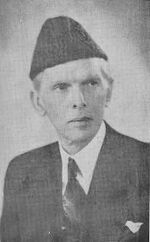 Quaid-e-Azam Muhammad Ali Jinnah is the founder of Pakistan. It was his hard struggle, dedication and determination that resulted in the creation of Pakistan. He was a courageous person.
Background
Edit
Muhammad Ali Jinnah was born on 25th December 1876 at Karachi. He recieved his early education at Karachi. When, he was sixteen years old, he passed his matriculation examination and was sent to England for higher studies.On his return to India he started his practice, as a lawyer first in Karachi, and then in Bombay.
Ad blocker interference detected!
Wikia is a free-to-use site that makes money from advertising. We have a modified experience for viewers using ad blockers

Wikia is not accessible if you've made further modifications. Remove the custom ad blocker rule(s) and the page will load as expected.