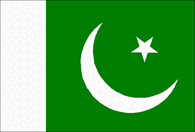 Pakistan is a beautiful country situated in the north-west of Asia.
"Pakistan is not just the name of a country situated in the North-West of the subcontinent. It's Quaid-e-Azam M.A. Jinnah's hardwork, Allama Iqbal's philosophy, the first Islamic nuclear power, the first one to launch cruise missiles, the home to the youngest Microsoft certified professionals, the O-level record breakers, the youngest ones to complete O-levels, Miandad's six, Afridi's agileness, the only country created on the 27th of Ramadan, the 2nd one to raise the largest amount of charity each year, the first one to accept China as a separate country, and so the list of these uncountable things goes on...
Pakistan has been through difficult times in its short history. However, the spirit and belief of its people are its special valuable resources, which no human can take away from it. With their usual support, it has been on the way of prosperity in all ways, fighting back those who are jealous and narrow-minded about its formation. And that day is not far away when it'll achieve the dreams of its base-makers and those whose lives had and have been devoted to it, InshaAllah!"